I've made a couple of huge mistakes this past week. Some of them involved bubbles and #2 pencils and some involved sausage gravy poured on hashbrowns. This is one of the latter.
Pappy's is the university's "diner" located in the Memorial union. Burgers, french fries, shakes and malts. If it weren't for all the Chinese international students working there I would think it was a horrible nightmarish hell dimension with a 50;s theme. (Well, it kinda is a hell dimension because their radio plays Ke$ha a lot.)
Now I enjoy some good old traditionally-accepted-to-be-"American" breakfast just as much as the next Asian guy, but I'm a cheap-ass through and through. So when I heard they were offering the a-la-carte equivalent of $7.29 worth of food all in one plate, I started to consider swinging back by the Union before one of my final exams. (A collective bundle of huge mistakes to be discussed another day.)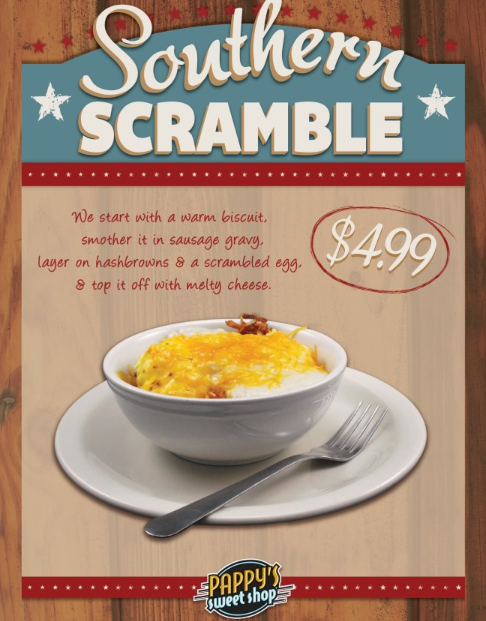 Okay, biscuits and gravy I enjoy; and who can argue with hash browns and eggs? So when I ordered it, I didn't especially mind it being all thrown in together on one plate.
Oh, how I was wrong. The proteins and lipids of the egg and gravy were irreversibly propagated into each other along with the lipids of the melted cheese. (Why does every diner love melted cheese so much?) The gravy just threw a dulling meaty flavor to everything, drowned out the cheese and saturated the crispy potatoes.
Grade: D- (in the spirit of the season, curved to D+)
What is exactly that makes this a "Southern" dish anyway? These components are all items already on the menu separately. Is it a Southern idea to mix all sorts of different things together? *eyebrow raise*